Table of Contents
2022 was a challenging year. The early better-than-expected growth forecasts for the global economy quickly turned into doubt after Russia invaded Ukraine. Growth predictions were decreased because of these development-related obstacles, as well as rapid and persistent inflation (particularly for food and energy).
In these fragile economic conditions, any new adverse development—such as higher-than-expected inflation, abrupt increases in interest rates to contain inflation, a resurgence of the COVID-19 pandemic, or escalating geopolitical tensions—could push the global economy into recession, according to the World Bank.[1]
Given this pessimistic view, what does 2023 have in store for the U.S. economy and coatings industry?
U.S. Economic Indicators
The U.S. economy appears to be losing steam, and a slight recession is likely in 2023. In its 2023 GDP forecasts, the International Monetary Fund (IMF) said it expected U.S. GDP growth of 1.4%, up from the 1.0% predicted in October and following 2.0% growth in 2022.[2]
"What I see in this economy is a lot of drag, which is going to keep this economy very sluggish and on the verge of recession for the next two years, assuming it doesn't collapse into a recession," said David Kelly, chief strategist at JPMorgan Asset Management.[3]
Most American citizens agree with this viewpoint and, despite greater projections made the year before (79%), particularly foresee rising inflation (67%). At the same time, the general public's perspective on the stock market and unemployment has become worse and is now negative overall.
Gallup's January 2-22 Mood of the Nation poll found that Americans' confidence in the economy remains low.[4] Mentions of inflation as the nation's most important problem are still elevated, and perceptions of the job market are positive but weakened compared to a year ago.
Furthermore, inflation in the U.S. reached its high in Q3 2022; by the end of the year, consumer price increases averaged 8.1%. We expect price growth to slow to 4.2% in 2023 (due to further increases in interest rates) before resuming its normal rise of 2-2.5% through 2026.
It is probable that markets will remain bumpy until economic data presents a more consistent picture of the American economy. In early January 2023, U.S. consumer confidence increased more than anticipated, hitting its highest level in nine months.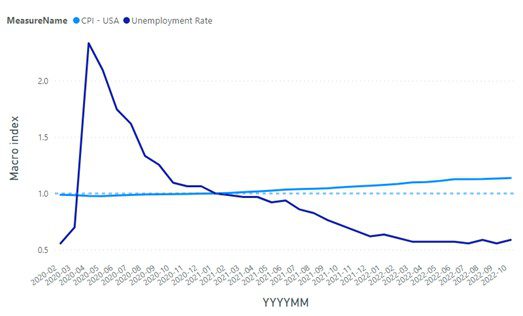 This positive movement in consumer sentiment is further substantiated by the Business Cycle Analysis tool in ChemQuest's Coatings TraQr™ dashboard. The quantitative Business Cycle Analysis tool quickly determines which stage of the business cycle an indicator is in.
A business cycle refers to a series of stages (A, B, C, D) as a particular indicator expands and contracts (see Figure 2). The phase of the business cycle is determined by the ratio of the previous three or 12 months to the preceding three or 12 months, respectively. A ratio of greater than one is a growth indicator.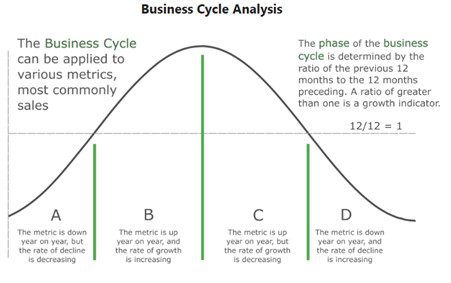 With the use of this knowledge, one may anticipate changes in the business cycle and make strategic decisions accordingly. For example, if a particular indicator is in Business Cycle B—a company may explore new markets, accelerate training, continue building inventory, outsource production, etc.
As illustrated in Figure 3, the 3/12 line, which measures the three-month year-over-year moving average, has increased and crossed the 12/12 line back toward positive territory. Thus, we can see that consumer sentiment in the U.S. transitioned from Business Cycle D to Business Cycle A (specifically in September 2022).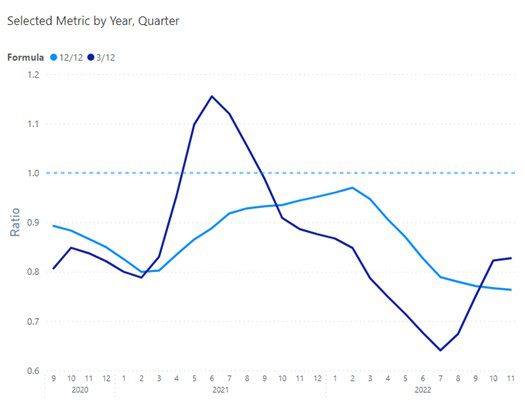 From a strategic standpoint, it would be wise to keep a watch on the indicator as it may change from Business Cycle A to Business Cycle B, where growth is accelerated. Other statistics support this phase transition; the improving labor market, lower gas costs, and declining inflation have all boosted consumer morale.
Opportunities will arise if this indicator does change to Business Cycle B. If your business is largely dependent on consumer sentiment, it may be time to investigate new markets, advance training, keep accumulating inventory, outsource manufacturing, etc.
The U.S. Federal Reserve has been raising interest rates, which has caused advance retail sales (a leading indication of recessions) to trend downward (see Figure 4). We've seen that the trend for industrial production and orders has also started to decline (see Figure 5).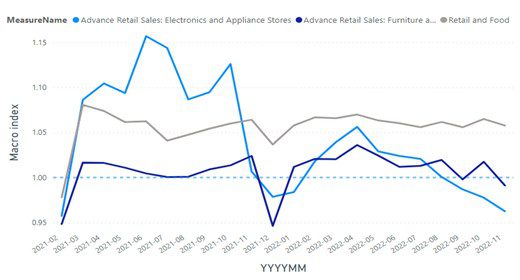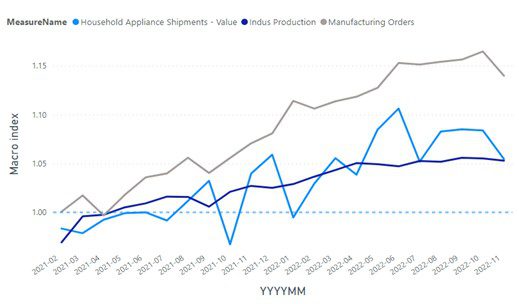 Home building and construction are also heavily impacted by rising interest rates. Though it has declined recently, the 30-year mortgage rate is still over 6%. The impact can be seen in a dramatic decrease in permits and starts for single-family homes. Completions were up an estimated 10% in 2022 compared to 2021, as builders worked through longer start-to-completion times due to supply constraints.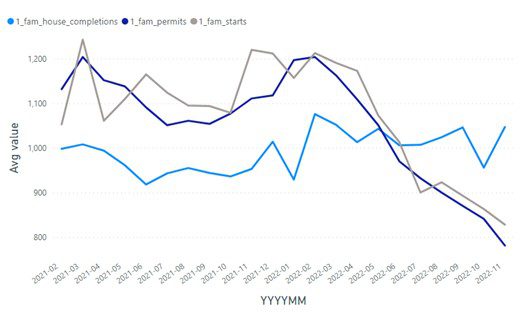 U.S. Coatings Industry Forecast
Due to fewer supply interruptions, raw material costs decreased sequentially in the low single digits in Q4 2022, as substantiated in Figure 7.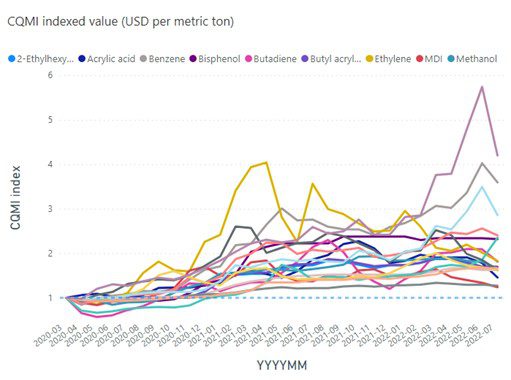 While prices are already covering overall cost inflation, the full impact of coatings formulators boosting selling prices will be delayed since formulators are still working through high-cost inventory. We expect these inventory issues to ease by 2Q 2023.
Many manufacturers of coatings anticipate a similar drop in raw material prices in the low single digits in 1Q 2023. ChemQuest has begun to see a variety of rollbacks for numerous raw materials. These adjustments have been, on average, quite small compared to mid-2022 prices. However, we do expect to see additional moderation in most (but not all) raw materials. As an industry, our sense is that suppliers are hoping to stand strong on current pricing.
After facing challenges for over three years, the U.S. paint and coatings industry is now experiencing favorable conditions. We can only hope that the industry will recover to its pre-pandemic levels in 2023.
For more information, contact the author at mrezai@chemquest.com.

References
1. "Sharp, Long-lasting Slowdown to Hit Developing Countries Hard," World Bank, https://www.worldbank.org/en/news/press-release/2023/01/10/global-economic-prospects.
2. "Inflation Peaking Amid Low Growth," International Monetary Fund World Economic Outlook Update, https://www.imf.org/en/Publications/WEO/Issues/2023/01/31/world-economic-outlook-update-january-2023.
3. "US Will Be On Verge of Recession for 2 Years: David Kelly," Bloomberg Television, https://www.youtube.com/watch?v=BwJgz9YNxag.
4. Jones, Jeffrey M., "America's Dissatisfaction with Nation Eases but Still High," Gallup, https://news.gallup.com/poll/469070/americans-dissatisfaction-nation-eases-high.aspx.
See the article in PPCJ.