Table of Contents
The restoration and remediation (R&R) market comprises restoration companies that provide services to restore residential and commercial properties that have been damaged by water, fire, smoke, or other disasters. In 2021, R&R market revenue was estimated to generate $62 billion, growing at a CAGR of 5%. About 62% of the work is residential, 28% is commercial, and the remaining 10% is institutional. R&R work is considered recession- and inflation-proof, as damage is often covered by claims filed by asset owners to their insurance companies.
R&R Market Insights
Restoration methods and training are developed by the Restoration Industry Association (RIA), and certifications are earned for mold, water, smoke, and odor remediation through the Institute of Inspection Cleaning and Restoration Certification. The RIA publishes Cleaning & Restoration Magazine and has its own conferences and industry expo to promote the latest techniques and products available to R&R business owners. Businesses that provide restoration services are typically franchises offered by companies like ServiceMaster®, ServPro®, Steamatic®, 911 Restoration, Restoration 1, PuroClean®, Paul Davis Restoration, and many smaller players.
This market is distinct from the paint and coatings market, as it addresses issues associated with remediating various types of damage. Types of remediation are listed in Figure 1; the incidence of occurrence was determined by a survey of R&R professionals.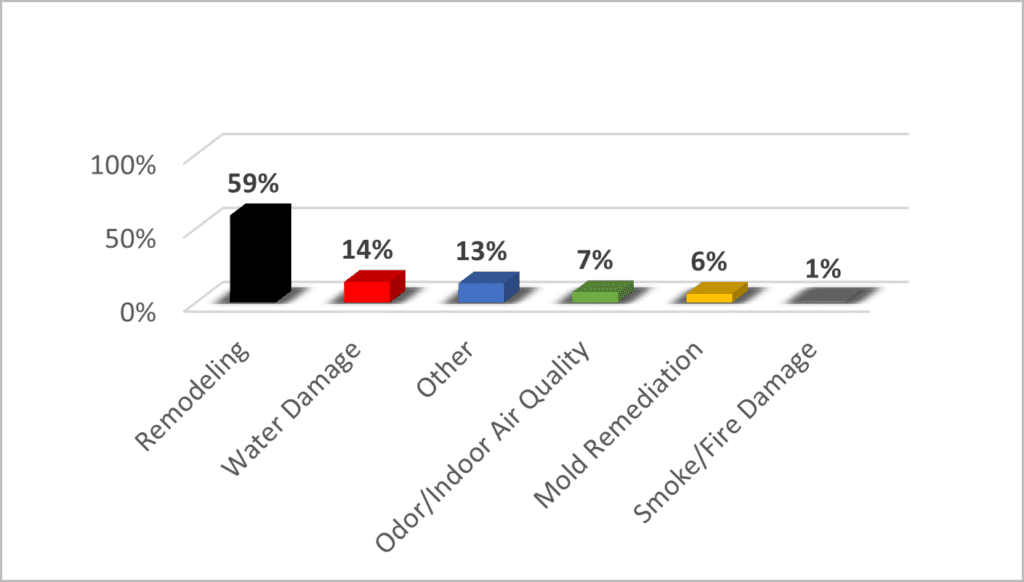 The market is growing in part because natural disasters are becoming more frequent, and our infrastructure and homes are aging. The "2021 LexisNexis® Home Insurance Trends Report" shows that nearly 15 million homes were impacted by severe natural disasters, causing $56 billion in property damage. In 2020, nearly 40% of insurance claims were for weather-related damage; more than 14,000 homes experience water damage each day.
Specialty Coatings Technologies
The paint and coatings industry has a large role to play in the R&R market. Specialty products are needed to address the problems seen in remediation sites.
Paint primers can help mitigate stains from mold and mildew, smoke, and fire damage. Flooded areas are prone to heavy mildew growth. Once dry, antimicrobial technology incorporated into paints can help prevent mildew regrowth on the surface.
Odor mitigation associated with mold and smoke damage can be addressed with a combination of treatments, including paints that contain additives for odor control. Safe, effective antimicrobial paints address increasing consumer awareness and concerns that mold damage can cause health issues.
Fire damage has increased with the rise in wildfires in drought-prone areas, especially in the western U.S. Coatings that provide fire-retardant properties may help prevent extreme damage to homes in these regions.
Future Coatings Opportunities
The paint and coatings and R&R industries intersect where coatings can provide solutions to the ongoing challenges in this market. More research and customer discovery with R&R industry professionals, as well as cross-marketing to this sector at RIA conferences and conventions, may stimulate new business opportunities.
For more information, contact the author at vscarborough@chemquest.com.
Read in CoatingsTech.