Table of Contents
The U.S. chemicals industry, including specialty chemicals, is undergoing a profound transformation in 2023, embarking on a journey of portfolio refinement, supply chain optimization, and groundbreaking material innovation. This transformative shift is fueled by a resounding call for circularity, decarbonization, and sustainability, marking a pivotal moment in the industry's history. It represents a significant reset, as companies reassess their material utilization practices aligning with evolving customer demands, encompassing not only the products they offer but also the diverse pathways and feedstock choices they embrace.
The disruption experienced over the past three years has underscored the importance of localizing supply chains and striking a balance between efficiency and resilience. The path forward could initiate a shift away from large-scale, global production toward sustainable, resilient, and increasingly regional production approaches.
The global adhesives and sealants market was growing steadily before the COVID-19 pandemic, with the Asia-Pacific region expected to experience the strongest growth (particularly in the packaging, automotive, and construction sectors). In North America, adhesives and sealants are projected to maintain a moderate compound annual growth rate (CAGR) close to the predicted GDP.
However, the pandemic's impact and the increasing demand for sustainable solutions present challenges and opportunities for adhesives and sealants manufacturers and suppliers. With a wide range of chemistries and formulations available, these industry players have a crucial role to play in meeting societal needs while adapting to a changing landscape.
Feedstock Overview for Adhesives
The manufacturing of adhesives and sealants relies on raw materials that hold a significant position within the vast chemical industry. While they constitute a relatively small portion, these raw materials play a crucial role; they represent most of the cost of goods sold (COGS) for adhesives and sealants. Moreover, the chemical building blocks employed in their production possess versatile properties, making them valuable for the creation of a diverse range of other chemical compounds.
Oil and Gas
Adhesives and sealants producers are sensitive to crude oil prices due to the preponderance of oil-derived feedstocks. The U.S. Energy Information Administration (EIA) has revised its crude oil price forecast for the rest of 2023 and 2024 due to a significant decline in prices since April.
Between April 12 and May 4, 2023, the Brent crude oil price fell by $16 per barrel (b) to $73/b, while the West Texas Intermediate crude oil price dropped by $15/b to $69/b (see Figure 1). The EIA expects moderate price increases in the coming months, driven by a decrease in OPEC production and rising demand.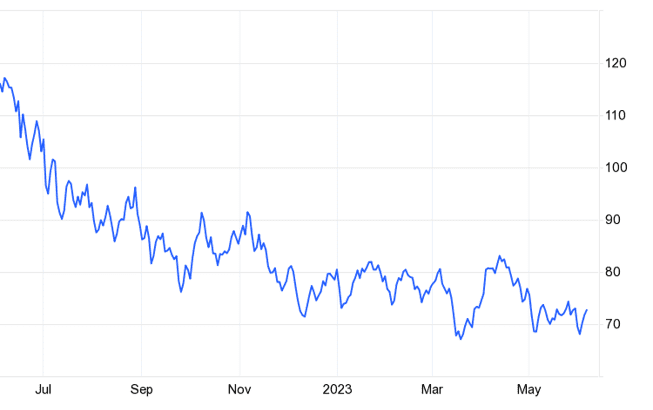 The decline in prices is influenced by several factors affecting both supply and demand. On the demand side, concerns about China's economic growth and a potential U.S. recession emerged due to a decrease in China's manufacturing Purchasing Managers' Index and issues in the banking sector.
On the supply side, global oil supply exceeded expectations as Russia continued higher oil flows, exerting downward pressure on prices. Additionally, disruptions in crude oil exports from Iraq and a force majeure affecting exports from Nigeria have reduced the near-term forecast for OPEC liquid fuels production.
These supply constraints are expected to push crude oil prices higher. In 2024, OPEC liquid fuels production is projected to increase by 0.7 million b/d to reach 34.4 million b/d as the existing OPEC+ production cuts conclude in 2023.
As shown in Figure 2, the EIA anticipates that the Brent crude oil price will rise from $74/b in May 2023 to $79/b in September, with a slight decline to an average of $78/b in the last three months of the year. A similar trend is expected for the West Texas Intermediate price.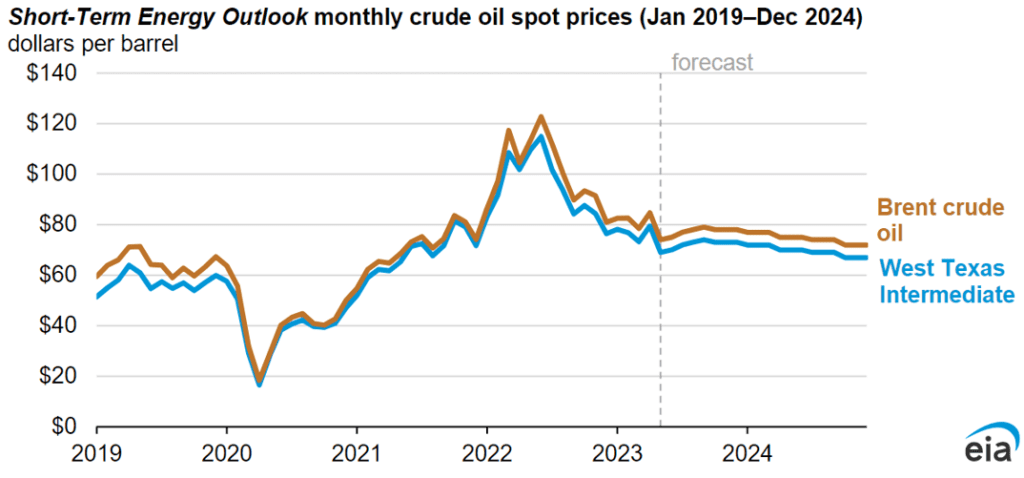 Ethylene and Propylene
Ethylene and propylene are two important building blocks for the manufacturing of various chemicals, including many used in the production of adhesives and sealants. Tracking the prices of these materials is a key element of strategic decision making, assisting adhesives and sealants producers and end users with keeping their costs in line and planning appropriately for the future (see Figure 3).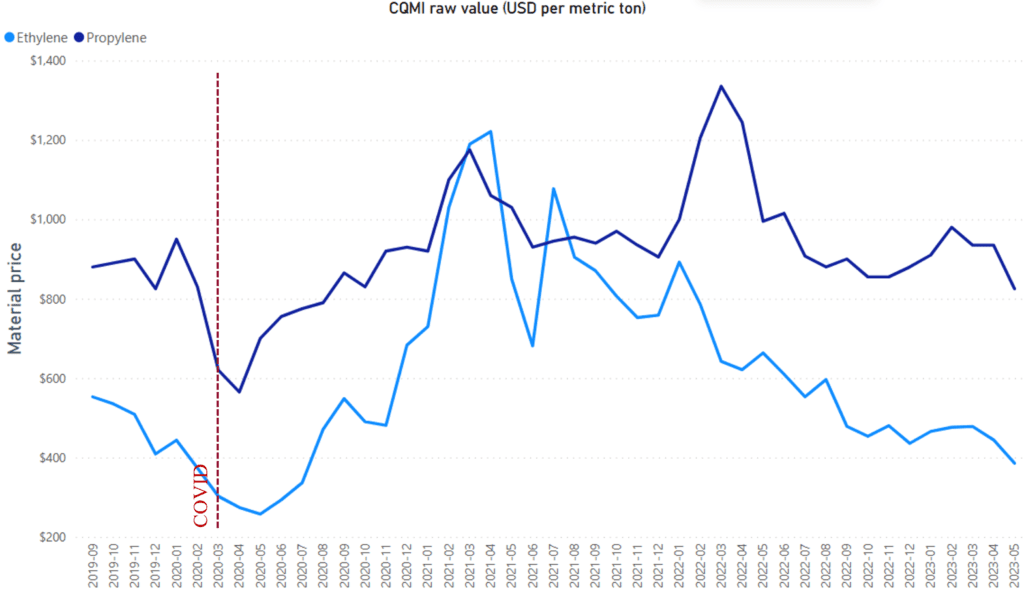 Ethylene
The petrochemical sector heavily relies on ethylene, which serves as the main component and precursor for approximately 60% of other organic compounds. The choice of feedstock significantly affects the economics and output of ethylene production facilities. In the U.S., over 60% of plants use natural gas-based feedstock, while 40% rely on crude oil-based feedstock.
Ethylene plays a crucial role in the production of plastics, fibers, and various chemicals across multiple industries (e.g., packaging, transportation, and construction). Its consumption has been steadily increasing, primarily driven by Asia, North America, and the Middle East.
U.S. ethylene producers enjoy a competitive advantage due to the availability of ethane from shale resources, commonly referred to as the "ethane advantage." This positions them favorably compared to naphtha-based ethylene producers in Europe and Asia, as ethylene prices are typically linked to the price of naphtha.
Forecasts suggest a balanced supply of ethylene meeting demand, with low prices for natural gas liquids expected to persist in the early 2020s. Polyethylene is the dominant application of ethylene, while derivatives such as styrene and vinyl acetate monomer (VAM) are crucial to industries like adhesives and sealants.
The U.S., the Middle East, and Western Europe are projected to become net exporters of ethylene, while Asia, Latin America, Central and Eastern Europe (CEE), and India are expected to be net importers.
In the first quarter of 2023, ethylene prices experienced fluctuations in different markets. Prices decreased in the U.S. due to sluggish demand from downstream industries like polyethylene and glycol. China witnessed conflicted trends on ethylene prices, with a slow decline attributed to sufficient supply and weak demand from the polyethylene industry. In Europe, prices initially remained stable due to steady demand but rose sharply as market participants restocked the material.
As we peer into the future, the trajectory of the global ethylene price is projected to maintain a steadfast stability, albeit at a lower level, as indicated in Figure 4. The TraQr™ advanced forecasting tool takes into account the notable surge in ethylene prices witnessed in the aftermath of the COVID-19 pandemic.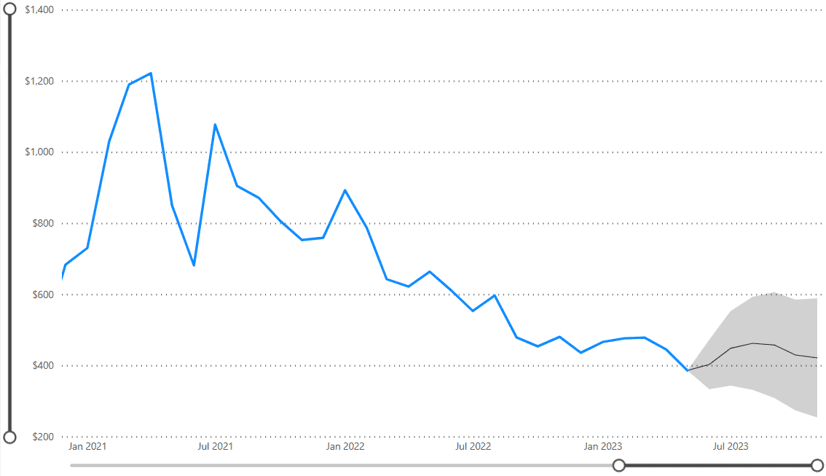 Propylene
Propylene, a major byproduct of ethylene production, is widely used as a chemical intermediate in various industries, including coatings, adhesives, fibers, and plastics. It is the second-most produced chemical globally, with demand driven by polypropylene production and other applications like propylene oxide and acrylic acid.
Asia (particularly China), the U.S., the Middle East, and the Commonwealth of Independent States (CIS) and Baltic States, will witness significant growth in propylene demand. To meet this demand, new propylene capacity will be established mainly in Asia and North America. The shift toward lighter feedstocks in ethane cracking will increase the need for on-purpose propylene production, potentially accounting for 30% of global production by 2021 and even up to 50% in North America.
In the first quarter of 2023, the North American propylene market experienced fluctuations. Surplus crude oil feedstock led to initially falling and low propylene prices, coupled with sluggish demand from end-user industries like resins and packaging. In the Asia-Pacific region, propylene prices showed a mixed pattern, with a rebound in the Chinese market due to a change in the government's COVID policy. In Europe, propylene prices increased in the German market despite high energy costs, while demand from downstream industries remained steady.
We anticipate an imminent price escalation in the near term for propylene, with a gradual tempering and eventual stabilization at its current level (see Figure 5). Forecasting offers valuable insights into the dynamic propylene market, shedding light on the expected fluctuations and paving the way for informed decision making by industry participants.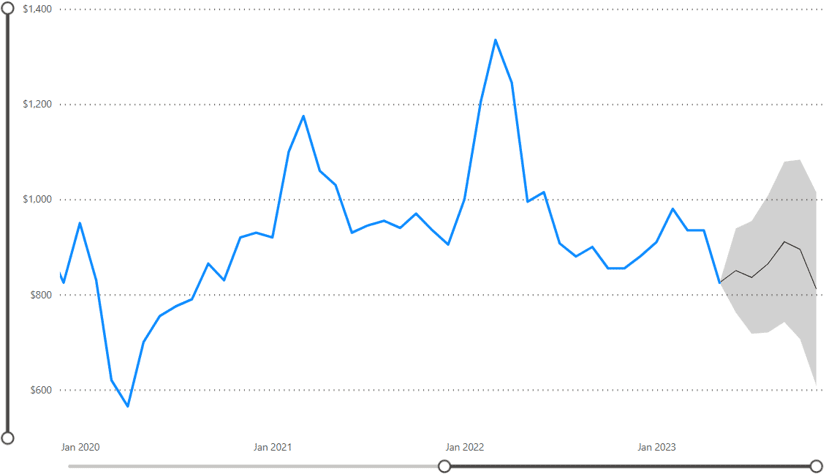 Trends and Headwinds Facing Adhesives Raw Materials
The chemical sector in the U.S. is experiencing a significant shift due to various factors such as energy price volatility, government policy changes, economic uncertainty, supply chain disruption, and geopolitical issues. To navigate these challenges, chemical industry executives must balance addressing immediate concerns with long-term success through technological innovation, adapting to changing consumer preferences, and building resilient supply chains. Many chemical companies have prepared for uncertain times by maintaining strong balance sheets.
Despite the potential challenges ahead, the chemical sector in the U.S. has performed well in recent years, benefiting from favorable feedstocks and high demand. Companies have solid balance sheets, generating strong earnings and positive cash flow while making disciplined capital investments. Chemical manufacturers have the opportunity to play a significant role in combating climate change and can adapt to the changing global geopolitical environment.
Industry participants are closely monitoring several long-term trends, including the development of emerging technologies to reduce emissions, the ongoing reshaping of portfolios, the importance of supply chain performance, and the strategic use of digital technology to enhance the value chain and promote sustainability in the chemical sector.
Changing Future
While the U.S. chemical industry is facing challenges such as low demand, oversupply, and narrowing profit margins, numerous opportunities exist for adhesives—particularly as companies increasingly focus on sustainability and circularity. Strategic decision making and investments in innovation will be crucial for long-term success in a changing landscape.
To learn more, contact the author at mrezai@chemquest.com.
Read in ASI.